The area serviced for on-site visits is approximately a 30 mile radius around the clinic location See Towns Covered.
Please call if you have needs outside this radius for possible service. All equine services available at: 1462 Gilmer Rd, Crosby, MN 56441
On farm, professional service 24 hours a day, with appointments when you are available – nights and weekends.

Wellness care focused on the well-being of horse and owner delivered in a stress-free environment including yearly physical exams, vaccinations, deworming and parasite checks, dentistry, and care for chronic problems such as heaves and chronic laminitis.
On farm emergency care, 24 hours a day 7 days a week, for all common horse emergencies including colic, injuries, lacerations, choke, and anything else a horse can do to itself after hours.
Digital Xray with instant on farm results, including evaluation of hoof conformation and coffin bone.
Digital Ultrasound featuring reproductive and tendon/lameness.
Ultrasound evaluation.
ON FARM SERVICES
Emergency
Colic
Eye Ulceractions
Lacerations
Choke
Euthanasia
Lameness evaluation
Digital Radiographs
Nerve blocks
Ultrasound Tendons and Ligaments
Preventative Medicine        
Vaccines
Coggins            
Health Papers    
Fecal Floatation    
Dental Floats
Preventative and corrective with sedation and power float
Wolf teeth extraction
Molar/Premolar/Incisor extraction (preferable done In-Clinc)
Prepurchase Exams
Reproductive Services
Uterine Ultrasound
Pregnancy Detection
Cyclical Staging
Chiropractic Care
Castrations
IN-HOUSE SERVICES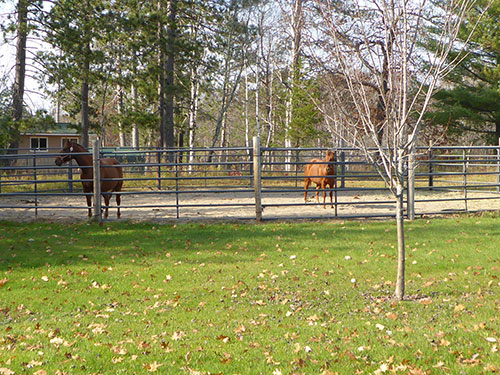 We can perform all of the On-Farm services here at our clinic, located at 1462 Gilmer Rd, Crosby, but are able to provide more care for the intensive care patients.
Our in-house lab allows us improved monitoring via means of:
Blood work
Anesthesia
IV catheter placement
Fluid therapy
Upper airway exams
Indwelling ophthalmic catheters and
Minor surgeries such as:

Neurectomys,
Throat surgery
Splint bone removal, and
Dental extractions