Staff
Iron Range Veterinary Clinic of Crosby & Aitkin, offers exceptional care for your pet's needs. Our team of veterinary care professionals treats your pet as their own.
We have a number of expert caring individuals that aid in our quest for excellent care.
Katie is a Minnesota School of Business graduate with an Associate in Applied Science degree for Veterinary Technology. 
Raised in the small town of Nisswa, MN, she developed a fondness for the outdoors and the creatures who reside in the wilderness.  Some of her hobbies include snowmobiling, ATV-ing, painting and anything to do with the lakes. 
Because Katie has a passion for helping animals and also loves to educate people, she knew that being a vet tech would be the most rewarding career option for her. 
Her loving family consists of her husband and daughter, two energetic huskies – Bella and Max, five cats  – Raja, Frank, Simba, Gracie, and Pearl (the rescue). 
When not working, Katie enjoys being involved as a member of Longville Women of Today.  There she plays a role in the community spending most of her winter months preparing for Christmas events and toys for tots.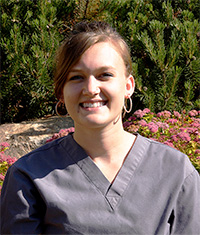 Rachel Berg, CVT
Rachel is Iron Range's equine technician. 
She comes from a hobby farm in Brainerd and has experience with a veritable menagerie of creatures from pigs and donkeys to guineas and ducks.  She is the mother of a beautiful little girl and is married to her high school sweetheart. 
She graduated from MN School of Business in St. Cloud with her Associates in Applied Science in Veterinary Technology in 2014. 
She and her family have three pets – a dog named Jiggers, a tabby cat named Rocket (rescued from HART) and Franklin the guinea pig (also a HART rescue). 
Rachel loves being a technician because each day holds something new and exciting.  She loves educating people on pet health topics and working with the doctors to heal sick and injured animals.  She looks forward to the rewards and challenges that meet her every day in her work at the clinic.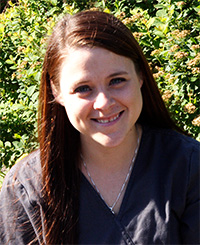 Jackie Wood, Receptionist
Jackie is native to the area.  She graduated from Brainerd high school, and then went to Ridgewater College where she received her diploma in Photography. 
She is a mixed package as her hobbies include pheasant and deer hunting, fishing, four wheeling, gardening, crafting, swimming and photography! 
She also helps manage the Crosby-Ironton High School Wrestling team, and is active on both the C-I Wrestling and Sports Boosters. 
She lives in Trommald with her husband, Brian(coach of C-I Wrestling team) son, Colton, and five Springer Spaniel dogs.  Her smiling face will greet you and your pet when you arrive at the clinic!